David Patterson
Vice President of Power Generation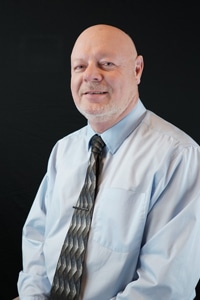 Patterson's career is filled with incredible accomplishments, to name a few:
Diesel & Generator Field Technician (Holeman GM Diesel Inc. 1975-1986)
Field Sales Rep. (Holeman GM Diesel Inc. 1984-1986)
Diesel & Generator Field Technician (Interstate Detroit Diesel Inc. 1986-1993)
(Interstate purchased Holeman in 1986)
Detroit Diesel Factory Training Master Mechanic Three (3) Schools 1975-1986
Kohler Standby Generator Factory Training 1992
Financial Administrator for Calvary Chapel 1990-1994
Contract Maintenance Sales & Service Owner 1991-1993
GenPro Power Systems Inc. President/Owner 1993- 2012
Dak Generator Services Inc. President/Owner2012-2018
Powerdak Power Products LLC President/Owner 2012-2018
Powerdak Holdings LLC President/Owner 2012- Present
Onan Certified Service Technical Award RV Level 2 1997
Onan Certified Service Technical Award Industrial Level 2 1997
Coleman Certified Industrial Service Technical Master Award 2000
SBA Small Business Exporter of the Year 2001
Generac Corporation Sales Engineer Training Award 2002
Electrical Generating Systems Association 2006-Present
Better Business Bureau Honor Roll 2007-2011
In his spare time, Dave loves traveling, especially overseas, hunting, fishing, hiking, and biking. He and his wife Kelly raised six children, and currently have eighteen grandchildren and three great-grandchildren. Dave and his wife are involved in several community-minded non-profit organizations in the state as volunteers and or consultants; Pathfinders, Living Hope Academy, Journey, and Restored Life Out Reach to name a few.