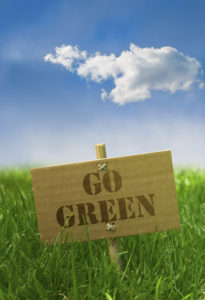 The term "going green" is familiar to most people but their interpretation of what it means differs greatly. The definition to some business owners  may be as simple as turning lights off when you leave a room or as complex as Corporate Social Responsibility (CSR) Programs. The question is, do your customers care whether your business goes green? And further, what kind of customers do you attract by making that decision?
The term Corporate Social Responsibility (CSR) was first used in 1953 to describe how companies should redefine their roles within the communities they serve. Instead of focusing on shareholder profits, business should focus on society as a whole through environmental protection, social activism, volunteer work and charitable giving. More than 88% of consumers think companies should try to achieve their business goals while improving society and the environment. The average American consumer will drive nearly 11 minutes out of their way to buy a cause-marketing product1. A cause-marketing product or service is where a percentage of proceeds are donated to a specific and often local charities.
A company can earn clout by using green energy, making specific and well-defined environmental goals public, regularly contributing money to local charities and educating customers on how they can improve the environment on their own. Fifty-five percent of global online consumers across 60 countries say they are willing to pay more for products and services provided by companies that are committed to positive social and environmental impact, according to a new study by Nielsen2.
One of the most visible ways to portray your environmental responsibility to your customer is by going solar. Solar energy is so abundant that enough sunshine hits Earth every hour to cover the world's electricity needs for a full year3. With the rising cost of grid electricity, you can lock in your energy costs throughout your payback period and then after the system is paid off, you will have free, clean, and renewable energy. Not only will this have an immediate impact on your bottom line, but will also be a form of "green advertising", communicating your values every time someone drives by and sees your solar panels.


Before you make the jump to solar you will need to optimize your facility. This optimization is done by making your building as efficient as possible. Up to 48% of a building's energy is used by the heating and cooling systems4. Upgrading these systems to newer, more efficient models would be one way to optimize your HVAC system. You can also install smart thermostats that only heat or cool rooms that are occupied. Other upgrades that benefit HVAC efficiency are new windows, window coverings and doors.
Around 25% of your electric bill goes to lighting. You can reduce this by a minimum of 75% by upgrading your inefficient incandescent lights with modern Energy Star rated LED lighting5. An LED upgrade will not only save you money monthly on your electric bill, it will also save money on maintenance costs by reducing the time spent replacing light bulbs. With just these upgrades to your facility, you can drastically reduce your energy bill. In turn, your investment in solar will now decrease, saving on your project costs from a reduced panel count.
Energy efficiency has been called "the fifth fuel" (after coal, natural gas, nuclear power, and renewables); it is seen as a cost-free tool for accelerating the transition to a green-energy economy. By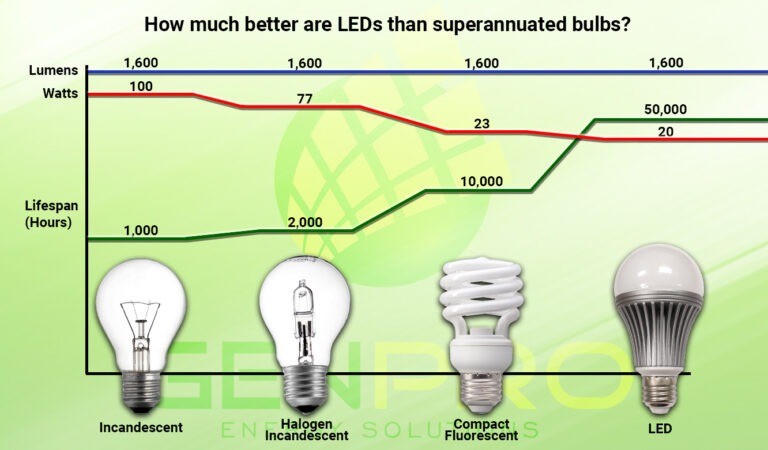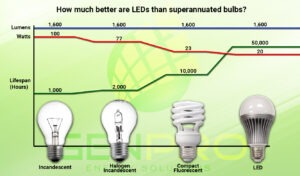 using this "fuel" the firm McKinsey & Company concluded that a national efficiency program could eliminate up to 1.1 gigatons of greenhouse gases annually.6 When talking about increasing energy efficiency, what we're really talking about is increasing the productivity of energy which will reduce its price due to the economic law of supply and demand.
Something to confuse supply and demand with efficiency was written by William Stanley Jevons and is now known as the Jevons Paradox. This states that if the fuel efficiency of something increases, so does the use of what was made efficient. An example of this is the Ford Model T. Trips in the Model T were limited to local areas because of the inefficient infrastructure and vehicle qualities. Once the roads were improved, you were able to get to your destination much more quickly and efficiently. This in turn increased the use of vehicles.
The Jevons Paradox can then explain why it's harder and harder to find dark skies, due to the amount of outdoor lighting there is. As lighting has become more efficient and cheaper, the use of outdoor lighting has increased. This has led to the International Dark-Sky Association to say "Millions of children will never see the Milky Way"7. Cheap and efficient lighting is great but improper use of the light adds light to the night sky which then reduces star visibility. GenPro is a firm believer in proper lighting applications, it's not as easy as switching out a bulb. Your new lighting system needs to be designed with careful consideration and engineering.
The focus should be on determining how your brand can effectively create shared value by marrying the appropriate environmental cause and consumer segments. A large number of companies now identify sustainability issues as strategically important and release a wealth of information in the form of environmental, social and governance (ESG) data8. On the other hand, scholars have argued that enhanced sustainability performance may lead to obtaining better resources (Cochran and Wood, 1984; Waddock and Graves, 1997), higher quality employees (Turban and Greening, 1997), and better marketing of products and services (Moskowitz, 1972; Fombrun, 1996)8.
Organizations can improve their sustainability performance and environmental impacts by measuring monitoring and reporting on it, helping them have a positive impact on society, the economy, and a sustainable future. Covalence EthicalQuote (CEQ) is a reputation index tracking the world's largest companies on Environmental, Social, Governance (ESG), Corporate Social Responsibility, ethics and sustainability9.
If you are a corporation with shareholders to satisfy, the Sustainability Accounting Standards Board (SASB) is an independent 501(c)3 non-profit that their mission is to develop and disseminate sustainability accounting standards that help public corporations disclose material, decision-useful information to investors. This mission is accomplished through a rigorous process that includes evidence-based research and broad, balanced stakeholder participation. SASB's mission is to develop and disseminate sustainability accounting standards that help publicly-listed corporations disclose material factors in compliance with SEC requirements10.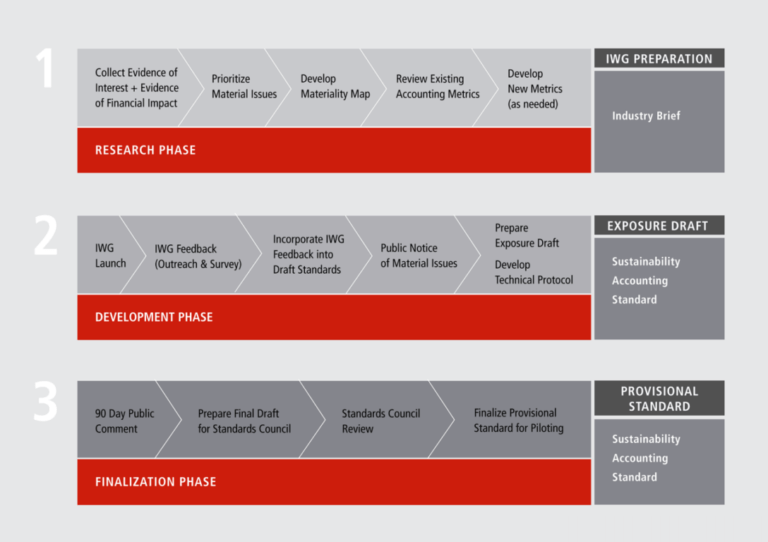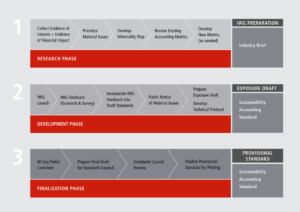 There is also the FTSE KLD 400 Social Index. It is designed to provide exposure to the common stocks of companies that KLD determines have positive Environmental, Social and Governance (ESG) characteristics. The KLD400 consists of 400 companies drawn from the 3,000 largest U.S. public equities as measured by float-adjusted market capitalization. The index is composed approximately 90% of large cap companies, 9% mid cap companies chosen for sector diversification, and 1% small cap companies with exemplary social and environmental records11.
The iShares MSCI KLD 400 Social ETF seeks to track the investment results of an index composed of U.S. companies that have positive environmental, social and governance characteristics as identified by the index provider. This index gives exposure to socially responsible U.S. companies, access to a broad range of stocks that have been screened for positive environmental, social and governance characteristics, and used to invest based on your personal values12.
Do your customers care whether your business goes green? The answer is "yes". You will attract new customers as well as retain the one's you already have. But even better than that is that you will also attract high quality employees which are your greatest asset as a business. You will increase your bottom line by minimizing overhead costs all while contributing to a renewable and sustainable future.
Sources
1)      http://www.forbes.com/sites/csr/2010/12/15/new-study-consumers-demand-companies-implement-csr-programs/#c2283875e1de
2)      http://www.nielsen.com/us/en/press-room/2014/global-consumers-are-willing-to-put-their-money-where-their-heart-is.html
3)      http://www.sandia.gov/~jytsao/Solar%20FAQs.pdf
4)      http://energy.gov/public-services/homes/heating-cooling
5)      http://energy.gov/energysaver/led-lighting
6)      http://www.newyorker.com/magazine/2010/12/20/the-efficiency-dilemma
7)      http://darksky.org/
8)      https://dash.harvard.edu/bitstream/handle/1/14369106/15-073.pdf?sequence=1
9)      https://en.wikipedia.org/wiki/Sustainability_reporting
10)   http://www.sasb.org/
11)   https://en.wikipedia.org/wiki/FTSE_KLD_400_Social_Index
https://www.ishares.com/us/products/239667/ishares-msci-kld-400-social-etf