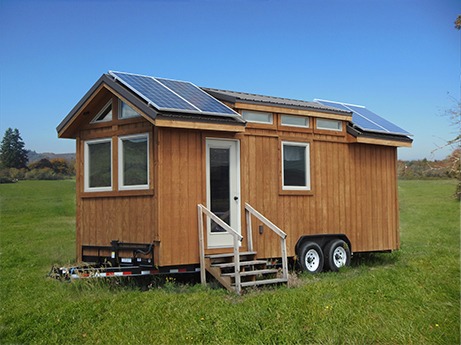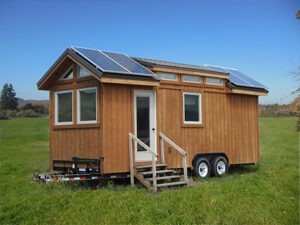 We are excited to present to you the all new GenPro Living Systems! A real green tiny home. We will design and build your off-grid tiny home to your specific needs. Below is our example home with just some of the features we could build into your home.
APPLIANCES
GenPro Energy Solutions has done significant research to find the most environmentally friendly, affordable, and efficient household amenities. Displayed in the GenPro Sample Tiny House is the Danby Energy Star 9.2 Cu. Ft. Bottom Mount Refrigerator. It has an eco-friendly design and is cooled by R600a refrigerant, which is a refrigerant gas that has a very low environmental impact. It is completely non-toxic with zero ozone depletion potential and with very low global warming potential.
BATTERIES
The Solar Energy System is connected to 6 AGM Batteries. GenPro chose AGM (Absorbed Glass Mat) batteries for efficiency and safety. AGM batteries do not sulfate or degrade like flooded batteries. The body is composed of positive and negative plates that are separated by an absorbent glass. This set-up holds the electrolyte in suspension while also keeping it constantly contacted with active lead material on the plates. This allows the battery to be more efficient while both charging and discharging due to higher surface area contact.
INSULATION
The use of air-conditioning and heating systems cause significant carbon dioxide emissions, so it's important that they are used as infrequently as can be possible. GenPro took this into consideration when installing Energy Star certified windows and doors. The windows and doors are designed so that the interior glass stays warm, versus an ordinary window where the inside surface is cold from outside elements. By designing window and doors to remain warm in the middle, cold air is far less likely to seep in and keeps the inside comfortable, even when the temperature dips well below freezing. In the summer, they reduce heat impact without the use of tinting glass. Beautiful outdoor sunlight is welcomed into the home, but the window and door coatings act as a sunscreen to prevent unwelcome heat, lessening the need for high air-conditioning usage. Beyond certified windows and doors, GenPro installed strong installation and used real wood to further encourage a temperate inside condition to eliminate, or at least greatly reduce, air-conditioning and heating system needs.
LIGHTING
LEDs are extremely energy efficient and consume up to 90% less power than incandescent bulbs. Since LEDs use only a fraction of the energy of an incandescent light bulb there is a dramatic decrease in power usage which allows for optimal Tiny Home efficiency. LED lights require very little maintenance, and due to the long lifespan, replacement costs are infrequent. LED lighting is also a safer choice, as the bulbs do not contain lead or mercury, are both shock and vibration proof, and do not emit UV or IR Radiation. Inside of the GenPro Sample Tiny Home, 6" LED cans were installed. The LED lighting provides a comfortable diffused light with a halogen white color temperature of 3000K and runs on only 12 watts. Outside of the GenPro Sample Tiny Home, 4'' LED cans were installed at a low power usage of 6 watts and at a dimmer color temperature of 2700K for a warm and pleasant appearance.
SOLAR
This GenPro Living System Home is built with a solar energy system that is comprised of 10 Boviet Solar 250W BVM6610P-250 Poly Silver Frame Solar Panels and 3 Magnum MS 4024 4000 Watt 24 Volt pure sine wave inverters/105 Amp PFC chargers that are mounted on highly durable GenPro Solar Rails. The 250 watt 60 cell solar panels are composed of polycrystalline cells encased in a silver anodized aluminum frame. These solar panels are designed for grid-tie and off-grid applications.
Key Features include:
Guaranteed positive tolerance 0/+5w ensures power output reliability
Strong aluminum frame module can bear snow loads up to 110lbs and wind loads up to 200mph
Manufactured according to International Quality and Environment Management Systems (ISO9001,
ISO14001)
The Magnum 4024 Series inverter is a pure sine wave inverter designed specifically for the most demanding
mobile and off grid applications. The MS Series is powerful, easy-to-use, and best of all, cost effective.
A lightweight aluminum base and cover to provide noise reduction and corrosion resistance
Power Factor Corrected (PFC) Charger is built into all of our inverter/chargers. It uses 25-30 % less
energy from a generator than a standard charger
ETL listed to the stringent requirements of UL/cUL 458 for mobile use and ETL listed UL 1741 and
CSA C22.2 #107.1-01 for renewable energy installations
The Magnum also meets KKK-A-1822E standards for emergency vehicle use
The inverter is connected to the solar panel, then the utility cable is then connected to the inverter's terminal block which is then connected to 6 AGM batteries which then powers T.V.s, stereos and other sensitive electronics without worry. The system is controlled with an on/off inverter-mounted switch with an easy-to-read LED Indicator. This carefully designed Solar Energy System holds enough power to allow the house to run on 2kWh per day for up to three days.
WATER
GenPro strongly encourages Tiny Home owners to plant their sustainable abodes in a permanent area, in order to install a well. Rainwater can of course be collected and filtered from the roof, but in drier climates, excess power that is gained from the Solar Energy System can be used to power a well pump. Water tanks come in all shapes and sizes, but the common recommendation is to employ a 1500 gallon water tank which, in most cases, needs to only be filled every 5-6 weeks. Sewer water is composted, and gray water (water from sinks and showers) can be recycled by a draining system to be used to water the land around your Green Tiny Home