Michael Mesman
Apprentice Electrician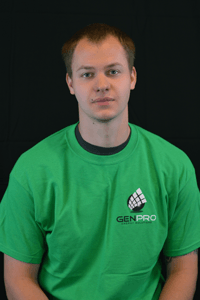 Michael started with GenPro Energy as an apprentice electrician in 2018.  He was born and raised on a farm near Springfield, SD.  Michael graduated from Mitchell Technical Institute for Electrical Construction and Maintenance.  After graduation, he went to work for the Springfield State Prison as an electrician.
He has gained a wealth of knowledge in solar energy since coming onto the GenPro team.  When asked what he finds most rewarding about working for GenPro, he stated: "I like working for a green company that is helping to make a difference in non-renewable energy".
In his spare time, he enjoys bowling, playing basketball and going shooting.